Usher Syndrome is a genetic condition characterized by deafness at birth or progressive hearing loss and progressive vision loss.
Symptoms of Usher Syndrome type 1
Bilateral profound deafness from birth
Vestibular (balance) problems from birth that can include

Poor head control as an infant
Arching of back as an infant
Late sitting
Late walking at age 18 months or later and then with poor balance for the first few years
Decreasing night vision beginning in childhood to adolescence

For more information on Usher Syndrome, visit the NIDCD website.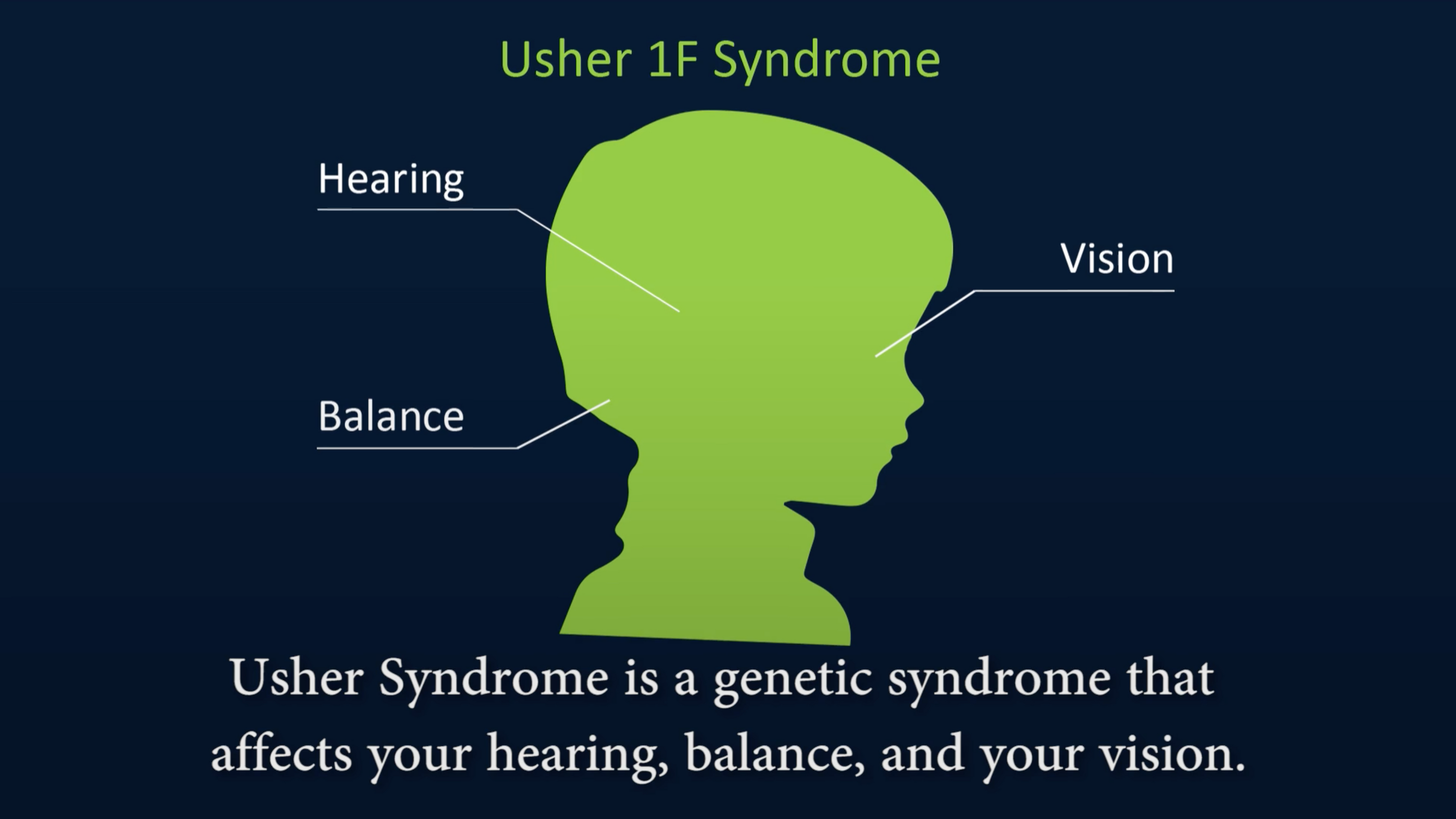 Currently, there is no cure for Usher Syndrome. While cochlear implants have greatly ameliorated the most major impacts of deafness for those who receive them as babies, there is no cure for blindness. Early identification and educational programs provide support to those affected, but in a world teeming with major technological advances in medicine, this simply isn't good enough. Targeted research is needed to enable a cure.
If you are unsure about a diagnosis or have more questions, visit our Get Genetic Testing page to see if you or a loved one has Usher Syndrome.
---
Frequently Asked Questions
Our organization raises funds for Usher Syndrome research so we can facilitate research toward a cure, help newly diagnosed families, and provide a space to ask questions around this rare disease.

Usher 1F is a rare disease and we are trying to expand the knowledge of this disease in order to spur additional research in order to help families such as these.

Since our founding, we have raised millions of dollars that have funded scientific research. Our researchers are currently developing multiple avenues toward a cure including, gene therapies, small-molecule drugs, and stem cell treatments.

Through our Ten to Cure Initiative, we hope to raise $10M to advance research in the lab toward proof of concept, identify existing drugs for Usher 1F, and conduct pre-clinical trial work that will save lives.

Nearly 100% of donated funds go directly to fund medical research for a cure. Our all-volunteer Board members use our own home offices, cell phones, etc., so that we minimize costs. We have a responsibility to our community and our donors and work hard to ensure long-term sustainability of the organization. We make our IRS Form 990 available for review, as required by law.

Please see our donation page.

Our community is made up of doctors, researchers, and most importantly, families of those living with Usher Syndrome. They hope that by working together and sharing as much information as possible, we can offer the most up to date and effective treatments possible.

By joining us, you will be able to support those doing this work. Your donation will directly fund the convening of researchers, families, and others, who will then use this collective knowledge to best support those living with Usher Syndrome.

We always need help with fundraising and spreading awareness, whether it's hosting an event in your community, or a virtual event, or simply talking to others to let them know about Usher 1F and the need for a cure. We are here to help you. Don't hesitate to be in touch.

What is your organization's privacy policy?

Our organization takes our privacy policy seriously and takes steps to protect and ensure the safety of our supporters. We do not sell or otherwise disclose information about our volunteers or supporters outside of our immediate organization. This policy has no exceptions. We do not sell or exchange your information with any other organizations, public, private or nonprofit.
---
What is Usher 1F? - in ASL