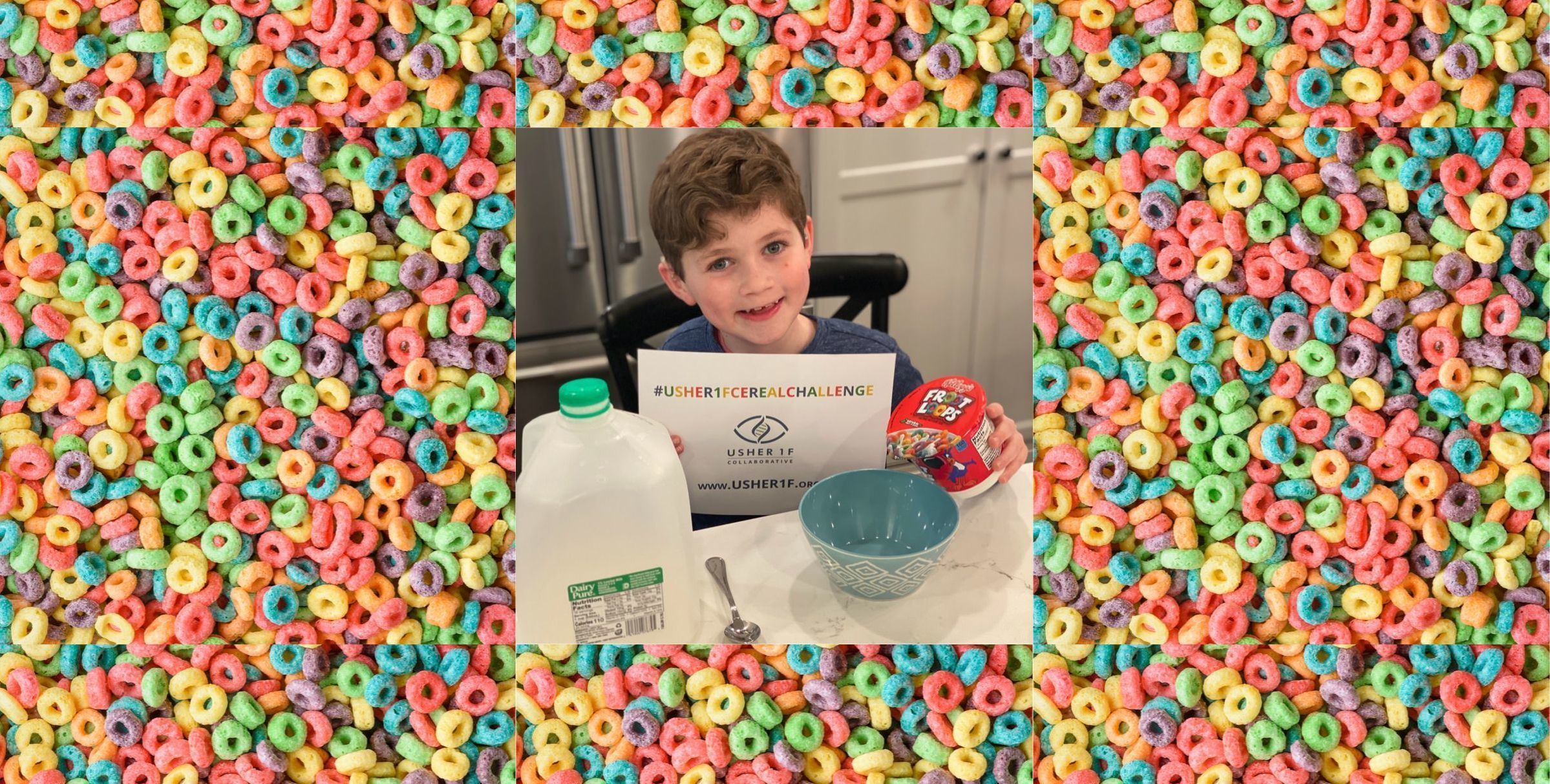 We have raised
$155,804.51
of our
$150,000.00
goal.
Welcome to the #USHER1FCEREALCHALLENGE 
My son Zachary was born with Usher Syndrome, which is the leading cause of inherited deaf-blindness. 
Zachary IS progressively losing his vision and we are in the race against time.
HELP US SPREAD THE AWARENESS AND DONATE
You have 24 hrs. to complete the challenge! 
Required Fundraising Disclosure Statements
Usher 1F Collaborative is a charitable organization exempt from taxation under section 501(c)(3) of the Internal Revenue Code, and as such, we are required to include certain disclosure language on all printed solicitations.
Financial and other information about Usher 1F Collaborative's purpose, programs and activities can be obtained by contacting Melissa Chaikof at 321 Walnut St., #228, Newtonville, MA 02460-1927, 339.221.2743, or as stated below. 
Colorado - Colorado residents may obtain copies of registration and financial documents from the office of the Secretary of State, (303) 894-2680, http://www.sos.state.co.us/, re: Reg. No. 20213015170. 
Florida - A COPY OF THE LATEST FINANCIAL REPORT, REGISTRATION FILED BY THIS ORGANIZATION AND A DESCRIPTION OF OUR PROGRAMS AND ACTIVITIES MAY BE OBTAINED BY CONTACTING US AT: USHER 1F COLLABORATIVE, 321 WALNUT STREET, #228, NEWTONVILLE, MA 02460. IF YOU ARE A RESIDENT OF ONE OF THE FOLLOWING STATES, YOU MAY OBTAIN FINANCIAL INFORMATION DIRECTLY FROM THE STATE AGENCY. FL REG. #CH51961
Georgia – A full and fair description of our programs and our financial statement summary is available upon request at our office and phone number indicated above. 
Illinois - Contracts and reports regarding Usher 1F Collaborative are on file with the Illinois Attorney General. 
Maryland - For the cost of postage and copying, documents and information filed under the Maryland charitable organizations laws can be obtained from the Secretary of State, Charitable Division, State House, Annapolis, MD 21401, (800) 825-4510.
Michigan - Charities registration #63607
New Jersey – INFORMATION FILED WITH THE ATTORNEY GENERAL CONCERNING THIS CHARITABLE SOLICITATION AND THE PERCENTAGE OF CONTRIBUTIONS RECEIVED BY THE CHARITY DURING THE LAST REPORTING PERIOD THAT WERE DEDICATED TO THE CHARITABLE PURPOSE MAY BE OBTAINED FOR THE ATTORNEY GENERAL OF THE STATE OF NEW JERSEY BY CALLING 973-504-6215 AND IS AVAILABLE ON THE INTERNET AT: http://www.state.nj.us/lps/ca/charfrm.html. REGISTRATION WITH THE ATTORNEY GENERAL DOES NOT IMPLY ENDORSEMENT. 
New York – Upon Request, Attorney General Charities Bureau, 102 Broadway, New York, NY 10271
North Carolina - Financial information about this organization and a copy of its license are available from the State Solicitation Licensing Branch at 1-888-830-4989 within (within North Carolina) or (919) 807-2214 (outside North Carolina)
Pennsylvania – The official registration and financial information of (Mono Lake Committee) may be obtained from the Pennsylvania Department of State by calling toll-free, within Pennsylvania, (800) 732-0999. Registration does not imply endorsement.
Virginia - Financial statements are available from the State Office of Consumer Affairs, PO. Box 1163, Richmond, VA 23218. 
Washington - The notice of solicitation required by the Charitable Solicitation Act is on file with the Washington Secretary of State, and information relating to financial affairs of Usher 1F Collaborative is available from the Secretary of State, and the toll-free number for Washington residents: 1-800-332-4483.