Usher 1F Collaborative Invites You to Join Us in Celebrating Our Tenth Anniversary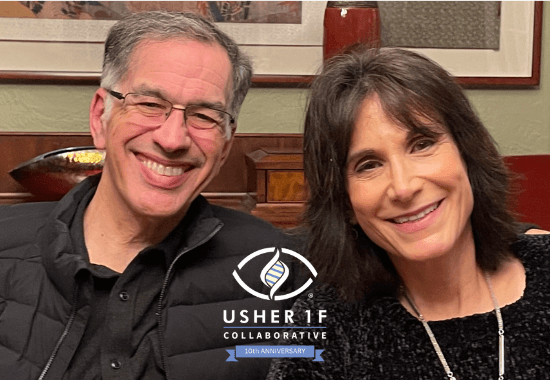 A letter from our co-founders, Melissa and Elliot Chaikof 
With excitement we recognize that 2023 marks the Ten-Year Anniversary of the founding of Usher 1F Collaborative.  Together with your support, we have accomplished so much in a relatively short period of time, including,
9 research labs focused on a cure for Usher 1F (in 2013 there were 0)
Development of zebrafish and mouse models on which we test therapies
Launch of a worldwide natural history study in partnership with Foundation Fighting Blindness
Garnered interest from 3 biotech companies for clinical trial
While it is important to report our achievements to this point, today we write about our future.  Time shows us no mercy as those who live with Usher 1F face a continuous narrowing of their vision. 
As we move into Spring, you might be planning travel with excitement and anticipation of new experiences and new sights. 
Imagine thinking, I wonder if this is the last trip where my child will see the ocean or the mountains or the sunset.
Imagine thinking, I wonder if this is the last summer where I will see my child joyfully running on the beach or blowing bubbles in the backyard.
These thoughts are a reality for families impacted by Usher 1F.  There is hope on the horizon, but still much work that needs to be done.  We are delighted to launch our Ten-Year Anniversary Campaign with a goal of $100,000 and invite you to join us as we embark on this bold effort.  The campaign is a celebration of our accomplishments, but it is also critical to reach this goal so we can accelerate the research.  Our labs are at a pivotal point in their path to a clinical trial and your investment will make a difference this year!
Today, we ask that you reflect on how Usher 1F Collaborative has turned your investment in the first ten years into remarkable advancements in research.  Further, we ask that you thoughtfully consider a contribution towards our Ten-Year Anniversary Campaign so that you continue to be a part of our achievements. Please visit our donation page to join the campaign.  
- Melissa and Elliot Chaikof