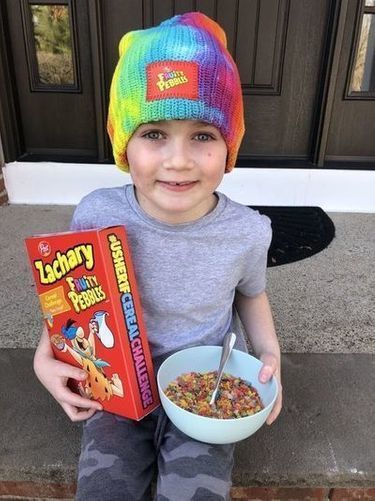 It seems as if every day we are hearing about the newest viral trend on the internet. Some are photos, some are videos, and of course, there is a never-ending stream of viral memes. We are thrilled to share that one of the most recent trends online was our very own #Usher1FCerealChallenge!
This campaign to both spread awareness and raise funding for research is the brainchild of our very own Root family in New Jersey. In thinking both about how Usher 1F affects individuals and what their son Zachary's favorite food is, an ingenious concept arose. Why not ask people to simulate one of the symptoms of those who have Usher 1F? And thus, the Cereal Challenge was born. How can someone do something as seemingly simple as preparing a bowl of cereal when they do not have the ability to see? 
On February 13th, the first participants donned blindfolds and felt around their kitchens attempting to gather a bowl, cereal, milk, and a spoon and subsequently prepare the classic breakfast meal.
With a little help from his parents and his dad's college friends from the University of Arizona, Zachary's Usher 1F Cereal Challenge took off! With over $150,000 raised and over one thousand videos, people all over the world have accepted the challenge!
We were even more excited when some of the most famous cereal brands and their iconic mascots accepted the challenge. Not only did Kellogg's donate $20,000, but also we saw Snap, Crackle, and Pop blindfolded on Instagram, and we saw their friends Tony the Tiger, Toucan Sam, and the Apple Jacks team attempt to prepare a bowl of cereal as well. Post Cereals donated $1000 and accepted the challenge, gifting Zachary with a one-of-a-kind personalized box of Fruity Pebbles. 
In addition to these icons from the world of cereal, we have also seen many celebrities accept the challenge. Athletes such as Oshane Ximines (New York Giants), Miles Wood (New Jersey Devils), Obi Toppin (New York Knicks), and former Yankees player James J. Leyritz joined in. We also had actors, including Tovah Feldshuh, Bradford Anderson, Jared Gertner, Geoff Stults and Rena Strober, share the challenge with their thousands of followers.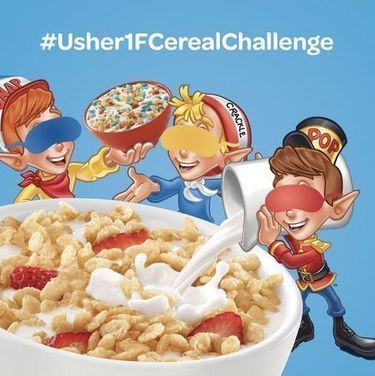 We were especially moved to see our own researchers at the University of Oregon, Monte Westerfield and Jennifer Phillips, take the challenge. There were even groups of students at the Epstein School (Atlanta), the Summit Speech School (New Jersey), and the West Essex Middle School (New Jersey) that accepted the challenge.
With all of this excitement, the Cereal Challenge was picked up by news outlets throughout the country in markets as large as New York City!
We want to thank every single person who has been involved for making this a profoundly bright moment in a year that has been challenging for so many reasons. Lastly, if you have yet to take the challenge, there's no better time than NOW!