Our Ten to Cure Initiative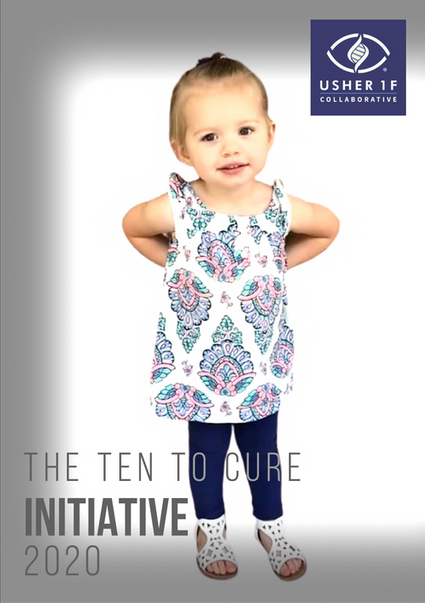 Usher 1F community is excited to announce a new major gift initiative called Ten to Cure. The name alludes to the campaign goal of raising $10 Million in new money to catapult research to the next critical levels for new breakthroughs.
Through several weeks of research, development, planning, and execution, the "Ten to Cure" initiative is ready for launch! Prospective donors have been identified, and strategic plans for the trajectory of each have been created. The team will be working with members of our board to network with donors in your geographic area and develop those relationships. Through this multi-city reach-out model, we aim to utilize various methods to present our case to potential donors. Considering the impact of the Coronavirus, we plan to supplement local networking with virtual gatherings. We look forward to hosting you for virtual information sessions, and we look forward to you sharing these virtual information sessions with your network as well.      
We owe a tremendous debt of gratitude to Berman Branding, founded and run by Rebecca Berman (friend of Jared & Rachel Root), who crafted a profoundly compelling visual brochure for us. Rebecca is also the same person who created our new Usher 1F Collaborative logo! Our brochure is a digital document which can also be printed and delivered as a stunning presentation. The brochure opens by communicating the problem that those with Usher 1F face and immediately asks the reader to imagine if we were able to find a cure. There are quotes and first-person testimony about living with Usher 1F, helping the reader empathize with individuals and families. The brochure also paints a picture for potential donors to understand what we have already accomplished and what our future plans are. Finances are clearly laid out, allowing individuals to understand exactly where their money will go.
It states in the brochure that, "The right design & strategy - with an incentive system to achieve the required patient outcomes is key to our success. Combined with motivation & urgency, along with talent, resources and continuity, our team has the essential ingredients." We are glad to feature our Board of Directors, lead scientists, engineers & researchers, and our Scientific Advisory Council; our digital brochure even links to individuals' bios on the Usher 1F website!     
We thank you for your commitment and look forward to your engagement with this new initiative. Ten to Cure can and must #UsherInTheLight and we cannot do this without you!