Becoming a Retinal Researcher and Seeking His Own Cure
by Stacey Ashlund and David Creemer
Our son Brendan is 23 years old. He graduated college with his Bachelor's degree in Biochemistry & Molecular Biology. He is currently doing a fellowship at the National Institutes of Health (NIH) in Bethesda, MD, and applying to PhD programs. As his parents, we are incredibly proud of his accomplishments as well as his ambitions to pursue a PhD in this area. 
When Brendan was just five weeks old, we learned he was profoundly deaf. He received his first cochlear implant at one-year-old (on his first birthday). Before he turned two-years-old, our worst fears were confirmed when we received the diagnosis that Brendan's deafness was due to Usher Syndrome Type 1 and that he would lose his vision as well. I still clearly remember the doctor telling us there was nothing we could do about his impending blindness. I'm happy to say that the doctor was incorrect. There was a lot we could do - and we did it.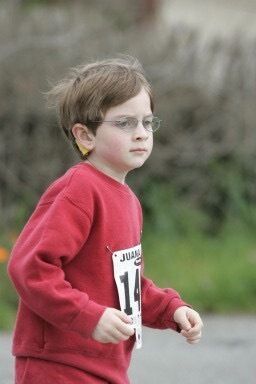 We joined the Usher Syndrome Coalition to connect with other families with Usher as well as the researchers in the field. About seven years later, we learned through the Coalition that a blood test was finally available which could tell us what subtype of Usher Brendan has. Learning that it was 1F, we connected with the Chaikofs, who were taking the lead in finding a way to fund research for 1F. Since the Usher 1F Collaborative was formed and fundraising began, and those funds were distributed, we've seen a steady stream of progress towards understanding 1F and what it will take to develop a treatment or a cure.
Brendan is planning to pursue his PhD in retinal research to take an active role in studying and treating retinal blindness due to causes such as Usher Syndrome. When he was young, we worried if he'd ever be able to learn to speak and read, attend college, and live independently. He has far surpassed our expectations, as well as those of most of the professionals we saw in those early days.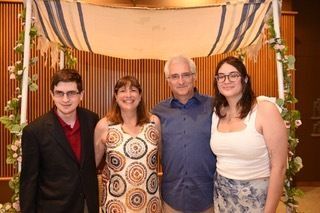 David and I have upped our donations to Usher 1F this past year because of the progress we are seeing in research, in understanding this genetic mutation, as well as developing and testing treatments to halt the progression of vision loss or even restore lost vision. In the 20+ years since we first learned that Brendan would lose his vision, we worried about his future; we grieved for what he couldn't do. We didn't know that he himself would be joining the teams of researchers across the world working on curing retinal blindness. We are so thankful to be a part of the Usher 1F Collaborative and to be able to contribute financially towards this life-changing research. Instead of the sadness and fear we first felt on learning of this diagnosis, we now feel hopeful and optimistic that something CAN be done, and with your help, we are doing it together.