By Jessica Chaikof
Growing up, my parents always told me to never let my disability define or impede me. Even though I am now in my mid-twenties, I continue to live with this motto in everything that I do. As a person living with Usher Syndrome type 1F, I know firsthand the effect Usher 1F has on one's life. I have had to overcome numerous obstacles—teachers doubting my potential, exclusion from group activities, stereotypes associated with being deaf and visually impaired, and denial of accommodations that are critical to my success. Throughout my academic career, I have had to not only advocate for myself but also for others. 
Students at my undergraduate institution embraced being an inclusive and diverse community, accepting of all types of people. Yet the challenge of living with a disability or fostering an environment that promotes accessibility was rarely part of the conversations about diversity. In addition, most students with disabilities do not wish to be publicly identified due to their desire to be accepted within the general student population. Utilizing my advocacy skills, I sought to change the conversation around diversity by emphasizing the ways in which a disability, at times apparent and in some cases hidden, can marginalize many students. 
During my last two years of undergrad, I focused on not only working to bring forward the voices of students with disabilities by helping to create the first disability club on campus, but also centering my research around it. My senior thesis, Faculty Perceptions Toward Accessibility in the College Classroom, focused on understanding how accessibility shapes the faculty experience within the classroom. My research helped to identify significant barriers between students with disabilities and faculty, such as students needing to disclose their disability to receive accommodations when many do not; certain disabilities, such as chronic illnesses, are not recognized and create unpredictable challenges; and classroom practices to accommodate everyone, such as Universal Design, are not widely known by faculty. Faculty desire more information and support on working with students with disabilities. Consequently, there is a need for faculty to have access to as much information on accessibility as possible.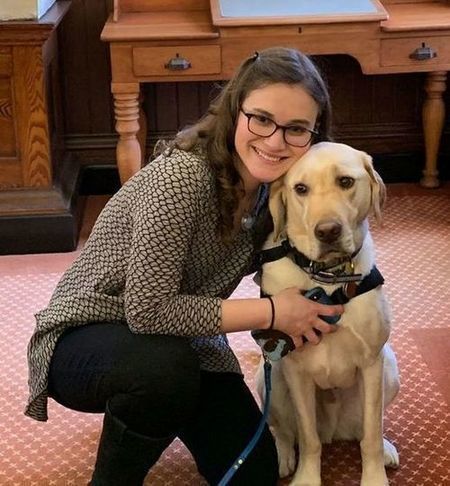 In my desire to continue this research, I have been attending American University for a master's degree in sociology. Unfortunately, due to the coronavirus, my first year of grad school was spent on Zoom. Prior to the start of classes, I was terrified of having to take class on Zoom, especially as a person with Usher Syndrome. I worried not only about being able to hear and see things on Zoom but also making connections with my professors and classmates. As the semester progressed, my worries eased as I got to know my professors through office hours and my classmates through impromptu Zoom happy hours. I fell in love with the program and felt incredibly supported by the sociology department at American.
During my time at American, I have met so many amazing professors, including one who was the first person to not only make me feel welcome at American but also showed me that there was something worth fighting for. Through the assignments for the class, she frequently encouraged me to not only pursue my research interests in accessibility and disability but also to think about other potential areas of research, such as chronic illnesses and the role gender plays in disability. Eventually, the two of us decided to work together on a research project examining the impact endometriosis has on college students, including how the pain affects their lives academically, professionally, and socially. There is so much information on support for other disabilities, such as ADHD, deafness, and vision loss but, unfortunately, limited knowledge for individuals with chronic conditions since they are invisible and contested illnesses. We need to be able to identify the barriers that these students are facing to determine how can we better support them.
Due to the availability of the COVID-19 vaccine, I have been able to attend my second year of graduate school in-person in Washington, DC. However, COVID restrictions, such as masking and social distancing, are still in place to protect us. As a person living with Usher Syndrome, these restrictions have proven difficult for me. Since the university does not offer graduate student housing, I have chosen to live in apartment that is less than a mile off campus. Unfortunately, most of my classes are at night, which is a challenge with night-blindness due to Usher 1F. The streets that I walk to and from my apartment are not well-lit, making it tough for me to see. When my family and I did a test run, I realized that I could not get home safely by myself at night. I contacted the accessibility services office and mentioned my vision, letting them know that I would need help getting back safely at night. Accessibility services told me that the school's public safety escorts would help me.
After my first night of classes, I called public safety asking for an escort, telling them that I am blind in the dark and could not see to get back to my apartment. They informed me that public safety did not have escorts for off campus and that I was on my own. I was upset and terrified because I did not feel safe that night. To make matters worse, my class was in a building far off the main campus. The only way for me to get home was through an Uber. Fortunately, my classmates stayed behind and made sure that I got into the correct Uber safely. After that night, the sociology department worked to move my class to a building that was more accessible and on the main campus. In addition, my classmates offered to walk me home at night to make sure I stay safe.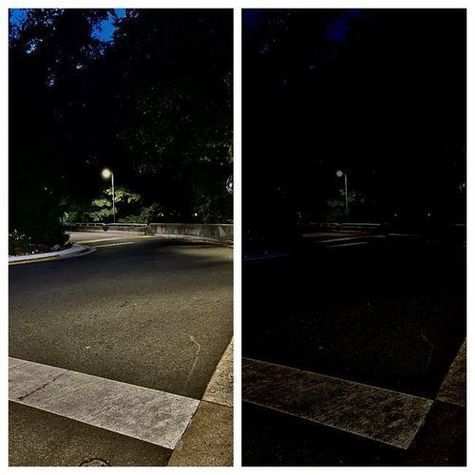 What has frustrated me the most about this incident is that accessibility services did not understand and would not help me. Their suggestions included taking the DC Metro back to my apartment or using an app to have public safety track me, neither of which would work for me since I am blind in the dark. If I could, I would drive myself home at night but, unfortunately, Usher 1F has robbed me of the ability to drive and see at night. 
I am incredibly fortunate to have such a wonderful and supportive department, but so many are missing the larger picture, that so many students with disabilities are struggling to obtain reasonable accommodations that afford us equal access to higher education. I plan to obtain a PhD in sociology so that I can conduct research that not only contributes to the sociological field but also helps to create and change institutional policies to ensure that higher education becomes more accessible to all students with disabilities.