Thank you for joining us for the ride and helping us fund critical research for a cure!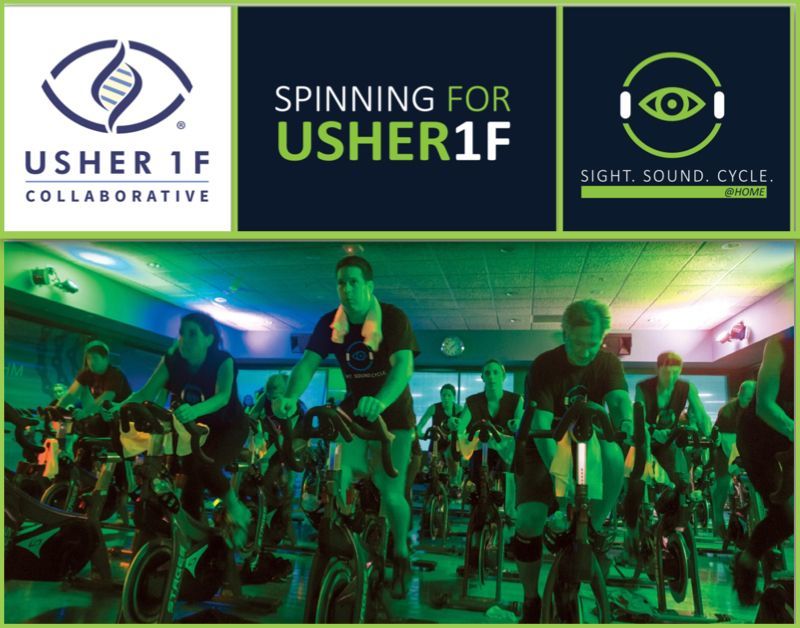 We have raised
$73,525.10
of our
$50,000.00
goal.
---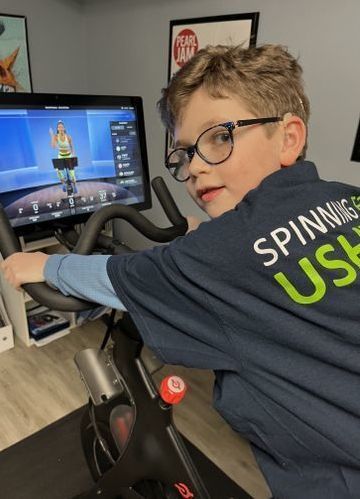 HELP US ENSURE THAT NO ONE WILL FACE AN EVER DARKENING WORLD FROM USHER SYNDROME TYPE 1F
SIGHT.SOUND.CYCLE
$275,000 RAISED
8 STATES
13 LOCATIONS
1500 RIDERS
On April 2nd, we are back spinning for a cure for Usher 1F!
Sight.Sound.Cycle @Home!
We will be riding on our Peloton bikes - No Peloton, use the Peloton app with any bike.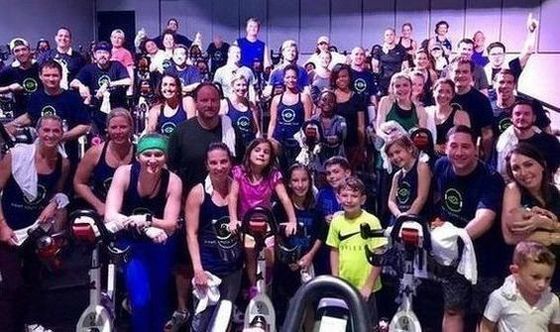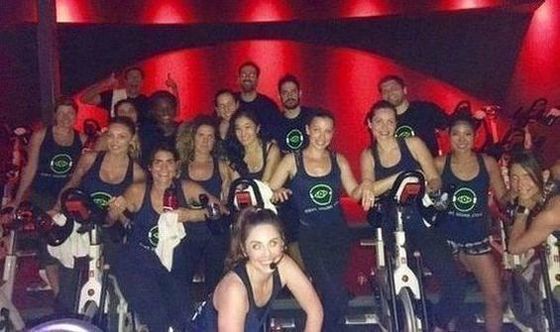 ---
We will be riding together with Kendall Toole.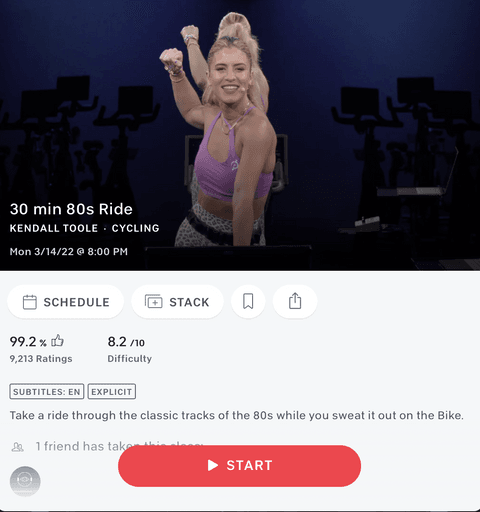 ---
Usher Syndrome is the leading cause of inherited deaf-blindness, and type 1 is the most severe. Children with Usher 1 are born profoundly deaf and progressively lose their sight. Cochlear implants can restore near normal hearing, but currently there is no treatment to prevent blindness from Usher 1F. Usher 1F Collaborative seeks to save and restore the vision of those with Usher 1F.
We leverage the world's best brains, current science, cutting-edge engineering and new technology to find a cure for this debilitating genetic disease. Our board has a world-renowned physician and scientist (also an Usher 1F parent), a biopharma venture capitalist, a drug developer, motivated parents and friends of affected families, and others in the corporate world. This winning combination allows us to access the best researchers and effectively understand and evaluate the science. 
We are uniquely positioned with our exemplary combination of skillsets to attract and fund the best scientists to achieve our mission. Unlocking this genetic mystery will lead to other breakthroughs, uncovering cures for additional rare diseases overlooked by big pharma and academia. New paradigms will eliminate so much needless suffering. 
Required Fundraising Disclosure Statements
Usher 1F Collaborative is a charitable organization exempt from taxation under section 501(c)(3) of the Internal Revenue Code, and as such, we are required to include certain disclosure language on all printed solicitations.
Financial and other information about Usher 1F Collaborative's purpose, programs and activities can be obtained by contacting Melissa Chaikof at 321 Walnut St., #228, Newtonville, MA 02460-1927, 339.221.2743, or as stated below. 
Colorado - Colorado residents may obtain copies of registration and financial documents from the office of the Secretary of State, (303) 894-2680, http://www.sos.state.co.us/, re: Reg. No. 20213015170. 
Florida - A COPY OF THE LATEST FINANCIAL REPORT, REGISTRATION FILED BY THIS ORGANIZATION AND A DESCRIPTION OF OUR PROGRAMS AND ACTIVITIES MAY BE OBTAINED BY CONTACTING US AT: USHER 1F COLLABORATIVE, 321 WALNUT STREET, #228, NEWTONVILLE, MA 02460. IF YOU ARE A RESIDENT OF ONE OF THE FOLLOWING STATES, YOU MAY OBTAIN FINANCIAL INFORMATION DIRECTLY FROM THE STATE AGENCY. FL REG. #CH51961
Georgia – A full and fair description of our programs and our financial statement summary is available upon request at our office and phone number indicated above. 
Illinois - Contracts and reports regarding Usher 1F Collaborative are on file with the Illinois Attorney General. 
Maryland - For the cost of postage and copying, documents and information filed under the Maryland charitable organizations laws can be obtained from the Secretary of State, Charitable Division, State House, Annapolis, MD 21401, (800) 825-4510.
Michigan - Charities registration #63607
New Jersey – INFORMATION FILED WITH THE ATTORNEY GENERAL CONCERNING THIS CHARITABLE SOLICITATION AND THE PERCENTAGE OF CONTRIBUTIONS RECEIVED BY THE CHARITY DURING THE LAST REPORTING PERIOD THAT WERE DEDICATED TO THE CHARITABLE PURPOSE MAY BE OBTAINED FOR THE ATTORNEY GENERAL OF THE STATE OF NEW JERSEY BY CALLING 973-504-6215 AND IS AVAILABLE ON THE INTERNET AT: http://www.state.nj.us/lps/ca/charfrm.html. REGISTRATION WITH THE ATTORNEY GENERAL DOES NOT IMPLY ENDORSEMENT. 
New York – Upon request, from the Attorney General's Charities Bureau, 28 Liberty Street, New York, NY 10005, 1-212-416-8686 or www.charitiesnys.com
North Carolina -Financial information about this organization and a copy of its license are available from the State Solicitation Licensing Branch at 1-919-814-5400. This is not an endorsement by the state.
Pennsylvania – The official registration and financial information of Usher 1F Collaborative may be obtained from the Pennsylvania Department of State by calling toll-free, within Pennsylvania, 1-800-732-0999. Registration does not imply endorsement.
Virginia - Financial statements are available from the State Office of Consumer Affairs, PO. Box 1163, Richmond, VA 23218. 
Washington - The notice of solicitation required by the Charitable Solicitation Act is on file with the Washington Secretary of State, and information relating to financial affairs of Usher 1F Collaborative is available from the Secretary of State, and the toll-free number for Washington residents: 1-800-332-4483 or https://www.sos.wa.gov/charities/. 
Wisconsin—A financial statement of the charitable organization disclosing assets, liabilities, fund balances, revenue and expenses for the preceding fiscal year will be provided to any person upon request.