Our Families Are Stepping Up!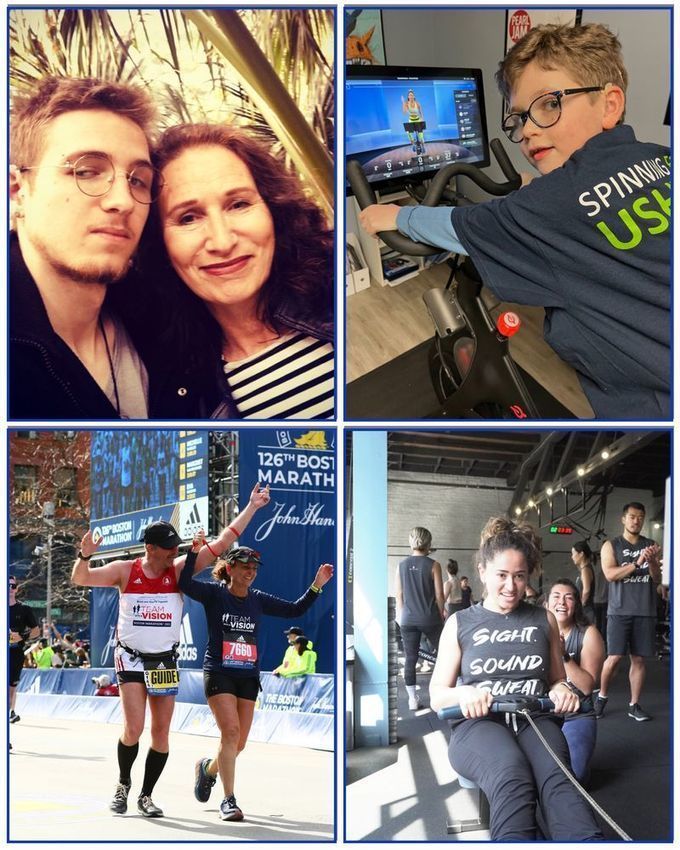 We want to give a big shoutout to some of our Usher 1F families who have stepped up to the plate to help us raise much-needed funds for research. For our 2021 Giving Tuesday and end-of-year campaign, we issued a challenge to our families to see who could raise the most. We send a big thank you to all of our families who participated but want to recognize our top fundraiser, Victoria Butler-Sloss, who raised $6105. From Giving Tuesday through the end of the year, we realized a total of $110,294 in donations and a grand total of $273,084 for the fourth quarter of 2021.
Following their pre-pandemic fundraising success with Sight.Sound.Cycle fundraisers, the Root family of New Jersey, including ten-year-old Zachary, who has Usher 1F, spearheaded Sight.Sound.Cycle @Home, engaging riders on their Peloton bikes or participating in any type of workout on a Saturday morning in early April, all using the hashtag #Usher1F on the Peloton app. Over 100 registrants and countless donations and corporate sponsorships in support of the ride brought in $73,525 for Usher 1F research.
On April 18, 2022, Jaime Recht, who has Usher 1F, realized a dream of hers when she ran the Boston marathon with the help of her sighted guides Gail Edwards and Troy Hemstreet. Jaime tirelessly reached out in the months prior to the marathon, seeking sponsors for her race to raise funds for Usher 1F research and succeeded not just in completing the 26.2 mile race but also in raising $5150. If you haven't seen it, check out this wonderful article about Jaime's race for a cure.
On April 23, 2022, Dorie Shapiro, who has Usher 1F, held her second Sight.Sound.Sweat fundraiser in San Francisco. Challenging all of her friends not only to sign up to join her to work out at Project 13 Gyms but to also seek sponsorships themselves, she raised $9573 for Usher 1F research.
Together, these four individual fundraising campaigns raised $94,353, which is enough to fund one of our research labs for a year. If these stories have inspired you, please join us. No one of us alone can realize enough funding for a cure, but all of us working together will make it happen. Imagine what we can accomplish if all of our families pitch in. No fundraiser is too small, and we will support you in any way that you need, creating your online fundraising page, processing donations, promoting your event on social media, and more.