Erica Miller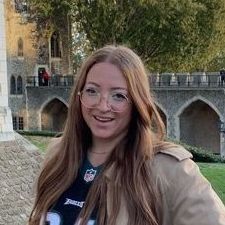 Having worked for a number of years in various client-facing roles both in the nonprofit world and the field of consulting, Erica joined Usher 1F Collaborative in April 2020. She is responsible for building relationships with Jewish communities and other potential funders and collaborators throughout the country, coordinating fundraising efforts with private and corporate donors, and liaising with key stakeholders.
Erica was born and raised in Lower Merion, Pennsylvania (just outside of Philadelphia). Erica graduated from the American Jewish University with honors where she then matriculated in their graduate program studying Kabbalah, Hasidut, Jewish Law, and community organizing. She has spent time working both on Capitol Hill and as a social media coordinator for a national news food editor.
In her time working for the American Israel Public Affairs committee, Erica was responsible for everything from fundraising, to leadership development strategy, and event activation. At the bipartisan lobbying firm, she learned greatly about diplomacy and discretion.
Most recently, Erica saw how Fortune 500 companies function from the inside. At a boutique consulting firm, she had both internal and client-facing responsibilities. Internally, she created a staff onboarding and training program. Externally, she was part of a team leading a large-scale audit and reformation of internal corporate educational systems.
Please do not hesitate to be in touch with Erica, as she loves meeting members of the community and hearing YOUR story!