Elliot Chaikof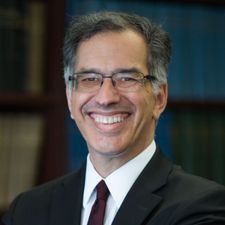 Elliot L. Chaikof, MD, PhD, is Chair of the Department of Surgery and Surgeon-in-Chief at the Beth Israel Deaconess Medical Center (BIDMC), as well as the Johnson and Johnson Professor of Surgery at Harvard Medical School. He currently serves as Chair of the Surgical Executive Committee at Harvard Medical School. 
Dr. Chaikof is also a member of the Wyss Institute of Biologically Inspired Engineering of Harvard University, the Harvard Stem Cell Institute, and a member of the faculty in the Harvard-MIT Division of Health Sciences and Technology at Massachusetts Institute of Technology. He also serves on the MD-PhD Executive Leadership Committee of Harvard Medical School.

Dr. Chaikof received his BA and MD from Johns Hopkins University and his PhD in Chemical Engineering from the Massachusetts Institute of Technology. He completed his training in General Surgery at the Massachusetts General Hospital and in Vascular Surgery at Emory University.
Dr. Chaikof joined BIDMC and Harvard Medical School in 2010 from Emory University, where he was Chief of the Division of Vascular Surgery, Program Director of the Residency in Vascular Surgery, and the John E. Skandalakis Professor of Surgery. He  also served as an adjunct professor in the School of Chemical Engineering and the Department of Biomedical Engineering at the Georgia Institute of Technology, serving as the primary thesis advisor for over 15 PhD and MD-PhD students.
Dr. Chaikof has three children, two with Usher Syndrome type 1F.